Web Design
Custom WordPress
Any-Size / Responsive Layouts
Keeping Web Site Code Current
Update Your Site 24/7
Video Editing & Embedding
…and More
Internet Marketing
Organic / Paid Search Engine Optimization
Social Media
Email Marketing
Online Partnerships
Local Listings / Reviews
…and More
..
What Solutions Do I Need?
Since 2001, EyeMagination planned web sites that saved our clients thousands of dollars and hundreds of hours of wasted time.  Included below are [label color="green"]5 essential questions for each web solution [/label] – planning, design, and marketing.  From these questions, our initial free consultation will explore the details you need in developing a flexible web site for the ever-changing web.
Planning
What are three service(s) and/or product(s) that your business or idea excels in?
Do you foresee your products / services radically change in the next 3-5 years?
How long have you been in business?
When is the deadline and how many hours can you focus on your site per week?
Are you the main point of contact or will it be someone else on your team?
..
..
..

Flexible Web Design
Do you have a logo?  Domain name?
What are three colors you want to see on your web site?
Does your site need to work on mobile devices?
Do you need a shopping cart / e-commerce system?
Do you want us to update your site or would you like to do it?
..
..
..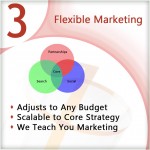 Flexible Marketing
What is more important – search result rankings or recommendations by others through social media?
Do you want to share your business location(s)?  Local to southwest Florida?
What is more important – higher budget with site listed quickly or lower budget with longer time frame?
Who will update your marketing content?
What is more important – sales or leads?
..
[hero_unit hero_title="I Like What I Hear.  What's Next? " hero_button_type="btn-success" hero_button_link="/contact/" hero_button_title="Contact Us"]Once you've read over these essential questions, it's time to contact us.  Click on the button below to fill out our quick contact form or give us a call.[/hero_unit]